Gallery of Creations, II
I now have prints of some of my artwork available for purchase on Ebay, or you can order directly from me if interested. Prints are 8" x 11 1/2" with a small white border, ready for framing. Price per print is listed below - please add $2.50 extra for postage - foreign postage - $4.00; each is printed on 67 lb cardstock and personally signed by me. There are also others available for purchase not posted here; if interested, please email me for pictures/prices.
---
Please view my Ebay auctions!
---
This is a pencil portrait of one of my children, entitled "Precious Son". Available as a print if desired, $4.50. If you are interested in having a similar portrait (I'm very good at realistic portraits) in pencil of an adult or child done from a photo, please email me. Price for a signed original pencil, 8 1/2" by 11", is $95.00.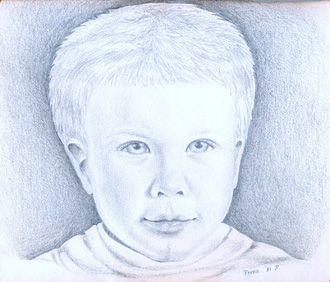 To view a closeup of this print, Please CLICK HERE.
---
A fantasy painting, Unicorn Fantasy, done in a surrealist-immpressionist style, of a very stylized unicorn landscape. Original media - watercolor and ink. Also for sale, $5 per print.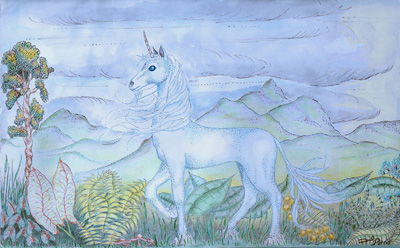 To see a closeup of this work, please CLICK HERE.
---
"Tropical Twilight"is a detail of one of my oil paintings - a print of this oil detail is also available as a print for purchase; $5.00.
To view a closeup of this print, please CLICK HERE.
---
View another painting which is available - Style: Surreal; $5.00, entitled "Surreal Forest" done originally in flowing oil-based inks.
---
For an order form for my art prints to fill out and mail in, click: Art Print Order Form
---
Go Back to Gallery I
Last updated: January, 2005 --
Holiday Schemes || K2 Schemes || CD Order Form || Parris Music MP3s
Silver Dragon Main Page || Styles Schemes Main page || News || Photos of Janet || Cursors