Banners
Examples of my newest software: Web Banners
Prices: $3 for simple banners with no graphics
Examples: banners 1, 8, 10, 12, and 14
$4 for one graphic (may be used twice)/multiple font styles
Examples: banners 3, and 7
$6 for multiple graphics/fonts
Examples: banners 2, 4, 6, 9, and 13
$8 for complex multiple graphics/fonts
Examples: banners 5 and 11
---
468x60 SIZE
---
1


2


3


4

5


6


7


8


9

---
150x150 SIZE
---
10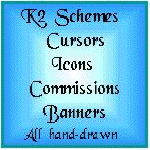 11
---
392x72 SIZE
---
12


13

---
234x60 SIZE
---
14

Note: For anyone interested in having a custom banner created, you may discuss what you want and send orders to me by email at: jparris6@netpath.net. Send in the correct amount for the banner you want to:
Janet Parris
105 Random Lane
Burlington, NC 27215
As soon as I receive your payment, I will email your banner to you.
Last updated: July 15, 1999
Holiday Schemes || K2 Schemes || Register
Silver Dragon Main Page || Styles Schemes Main page || News || Cursors
---
Webpage design © 1998, Sven Berg Ryen.
Content © 1997-2005, Janet Snider Parris.
All rights reserved.