St. Paddy's Day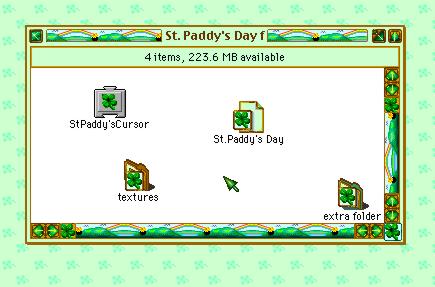 St. Paddy's Day has four-leaf clover (lucky variation of the shamrock) folders and trash. It was inspired by Finian's Rainbow, with lake and pot of gold at the end of the rainbow windows/scrollbars.
It has now been enhanced for K2 with extra resources included.
Last updated: May 11, 1998 -- Available on Styles Schemes Volume 2 CD
Holiday Schemes || K2 Schemes || CD Order Form
Silver Dragon Main Page || Styles Schemes Main page || News || Cursors
---
Webpage design © 1998, Sven Berg Ryen.
Content © 1997-2005, Janet Snider Parris.
All rights reserved.