Parris Skateboards
Custom Handmade Solid Oak Skateboards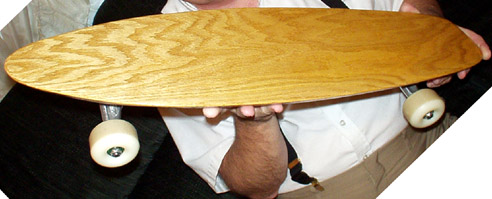 Introducing Parris Skateboards, brand new individually completely handmade skateboards, incorporating the finest solid oak for strength and shaped into a sleek surf design reminiscent of the skateboads made in California in the mid to late '60s for a beautiful freestyle board. Designed and completely handmade and hand finished by Randy Parris. These have been tested and proven to be extremely fast (faster than most); excellent for freestyle skateboarding!!
The deck is flat, enabling the rider to utilize every millimeter of surface. Each board is approximately 27 1/4" in length by 8" wide by 3/4" thick. Parris Skateboards feature the finest wheels, trucks, and bearings, and a solid oak hardwood deck which has been varnished to allow the grain of the wood to show through and to provide protection of the fine wood. You can further customize it yourself if you want decorations, etc. but the wood grain is absolutely gorgeous and unique; no two are exactly alike due to the differences in wood grain, so yours will be one-of-a-kind.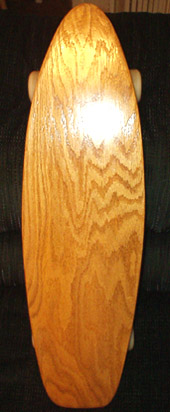 I have designed these boards especially for freestyle skateboarders who desire fast, fun skateboarding with excellent maneuverability. Each board is a work of art, cut to show the grain of the wood to its fullest beauty. Something you can be proud to own!

The sleek design of Parris Skateboards is not an accident - I used to be a 1960's longboard surfer and skateboarder and love classic lines. These boards have been designed to incorporate the speed of today's technology with the beautiful lines of yesteryear. Let me make one for you!!
---
Ordering/Pricing
Priced at just $185 each, each complete skateboard is custom handmade and hand finished solid oak. Shipping within the continental United States is included in the price for the completed skateboard. Each skateboard is individually handmade upon ordering. Please allow 3 to 4 weeks for completion of your handmade board and delivery to your door.
Available by email ordering at: Parris Skateboards
Just send in your order by email and use PayPal (FREE - sign up and get $5.00!) to pay! You may pay by Visa, Discover, Mastercard, or Echeck! Money orders and official bank checks made out to Randolph L. Parris are also acceptable(NO personal checks). Mail to:

Randy Parris
105 Random Lane
Burlington, NC 27215

Pay me securely with any major credit card through PayPal!
---
Last updated: -- July 27, 2004 --
Holiday Schemes || Listing of all Software || CD Order Form || Latest News || Downloadable Parris MP3s
Silver Dragon Main Page || Styles Schemes Main page || Styles Jewelry || Cursors

Content © 1997-2005, Janet Snider Parris.
All rights reserved.