Sea Sprite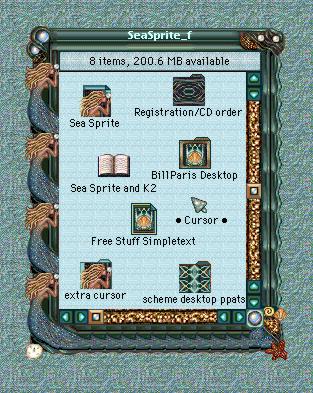 An image of a K2 companion scheme to Wood Nymph. Mermaids, and seashells, and daydreams, oh, my! Is now completed. Has lots of goodies, incuding pearlized cursor, with additional shell cursor and many scheme patterns for the desktop in the folder, etc. etc.
Last updated: May 29, 1999 -- Now available on Styles K2 Schemes CD
Bill Paris desktop, JansShell, included in Sea Sprite folder on CD. It is 640x480. A larger size can be obtained at Bill's website.
Holiday Schemes || K2 Schemes || CD Order Form
Silver Dragon Main Page || Styles Schemes Main page || News || Cursors
---
Webpage design © 1998, Sven Berg Ryen.
Content © 1997-2005, Janet Snider Parris.
All rights reserved.