Seashell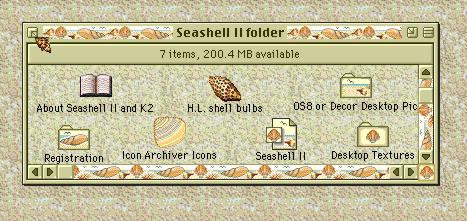 LOOK at all you get. This is the most complete interface created for Kaleidoscope thus far. Seashell, full version comes with a Seashell cursor, Seashell icons in Icon Archiver format, Seashell bulb file for Holiday Lights, Pict for OS8 or Decor, and textures. Enhanced for K2 with Custom folders, trashwindow background, and seagull windowshade sound.
Last updated: Augsut 10, 2000 --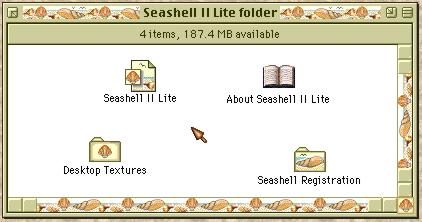 Lite, with 3D cursor and default folder and trash
Seashell II Lite
Available on Styles CDs
Last updated: June 11, 1999 -- Both versions available on Styles Schemes Volume 1 CD; New update downloadable
-- Download Seashell --
Holiday Schemes || K2 Schemes || CD Order Form
Silver Dragon Main Page || Styles Schemes Main page || News || Cursors
---

Webpage design © 1998, Sven Berg Ryen.
Content © 1997-2005, Janet Snider Parris.
All rights reserved.