Left-Handed Custom Cursors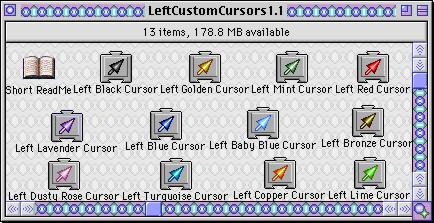 Freeware colorful 3D cursors for all you lefties out there in the Mac community. Also available on the Styles Cursors CD for a hard copy backup.
*For more left-handed cursors, click HERE*
Last updated: July 27, 2004 -- Download Left-Handed Custom Cursors
Holiday Schemes || K2 Schemes || CD Order Form
Silver Dragon Main Page || Styles Schemes Main page || News || Cursors
---
Webpage design © 1998, Sven Berg Ryen.
Content © 1997-2005, Janet Snider Parris.
All rights reserved.