Kwanzaa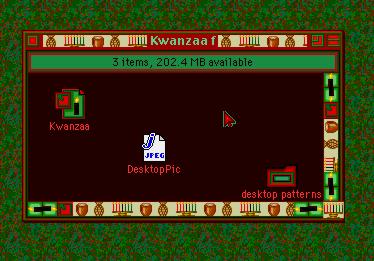 Kwanzaa has custom folders and trash, cursor, drum windowshade soundfile, Kinara with Mishumaa Saba, Kikombe Cha Umoja, and ceremonial drum active scrollbars with Umoja active scroll arrows and Muhindi incative scroll arrows, all done in the black, red, and green of Kwanzaa. Created for K2.
Last updated: December 16, 1998 -- Available on Holiday Schemes CD
Holiday Schemes || K2 Schemes || CD Order Form
Silver Dragon Main Page || Styles Schemes Main page || News || Cursors
---
Webpage design © 1998, Sven Berg Ryen.
Content © 1997-2005, Janet Snider Parris.
All rights reserved.