Kitties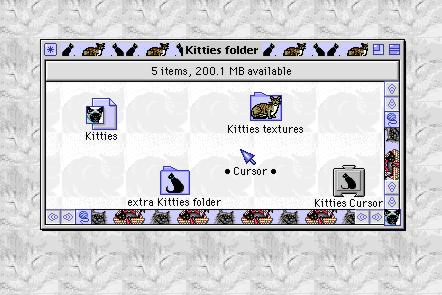 Another color scheme with accent colors
With kitty litter trash, yarn thumb scrolls (in blue and lavender accents only), Kitties system folders, cat and kitten textures, sleeping kitten menu, and meow windowshade sound. Now enhanced for K2; added cat cursor.
Last updated: May 31, 1999 -- Available on Styles Schemes Volume 2 CD
Holiday Schemes || K2 Schemes || CD Order Form
Silver Dragon Main Page || Styles Schemes Main page || News || Cursors
---
Webpage design © 1998, Sven Berg Ryen.
Content © 1997-2005, Janet Snider Parris.
All rights reserved.