Easter Sunrise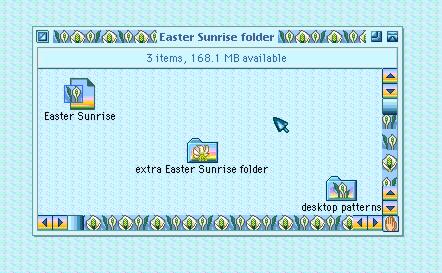 Easter Sunrise has Easter lily, Sunrise, and Calla lily folders, praying hands grow boxes and apple menu icon, and closed tomb and stone rolled away trash, signifying the risen Christ.
It has been enhanced for K2, with extra resources included.
Last updated: May 12, 1999 -- Available on Holiday Schemes CD
Holiday Schemes || K2 Schemes || CD Order Form
Silver Dragon Main Page || Styles Schemes Main page || News || Cursors
---
Webpage design © 1998, Sven Berg Ryen.
Content © 1997-2005, Janet Snider Parris.
All rights reserved.