Doggies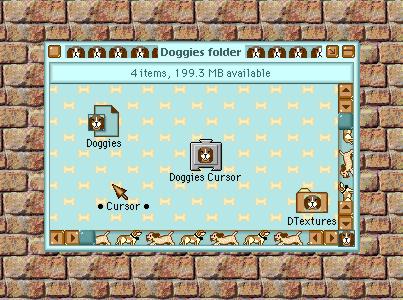 - For dog lovers - With beagle in doghouse trash, running puppy menu, Doggie system folders, barking windowshade sound, dog bone window background, and dog bone progress bar all written-in. Enhanced for K2.
Last updated: May 31, 1999 -- Available on Styles Schemes Volume 2 CD
Holiday Schemes || K2 Schemes || CD Order Form
Silver Dragon Main Page || Styles Schemes Main page || News || Cursors
---
Webpage design © 1998, Sven Berg Ryen.
Content © 1997-2005, Janet Snider Parris.
All rights reserved.