Winter Wonderland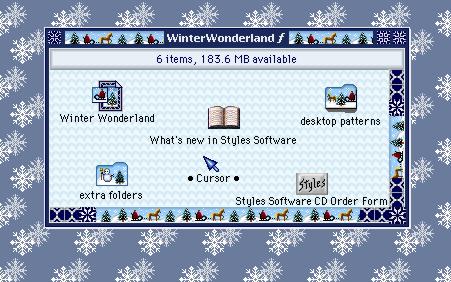 A landscape scheme, Winter Wonderland has wintry trash and folders and Clixsounds windowshade sound. Now enhanced for K2 (desktop pattern, utility pattern, cursor, window background, and sculpted menubar, in addition to the sleighbells soundfile, custom folders, and trash). Season's Greetings!
Last updated: July 26, 2000 -- Download
Holiday Schemes || K2 Schemes || CD Order Form
Silver Dragon Main Page || Styles Schemes Main page || News || Cursors
---
Webpage design © 1998, Sven Berg Ryen.
Content © 1997-2005, Janet Snider Parris.
All rights reserved.