Willow Song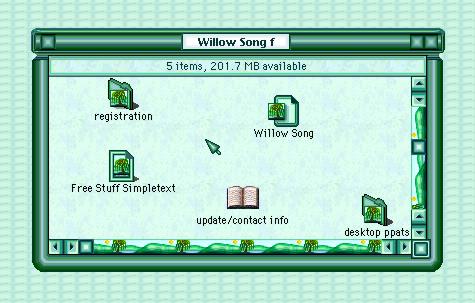 A landscape scheme; created especially for K2 with K2 windows and resources. Great for St. Patrick's Day! | Download
Now available below, a brand new beautiful Bill Paris desktop image, created expressly to go with Willow Song! This image is included in the download folder, or to download just the desktop image, select "Save this image as" on your computer (640x 480). Larger resolutions may be obtained at Bills' website (click-on link on my main page).
Last updated: March 3, 2000 -- Available on Styles K2 Schemes CD
Holiday Schemes || K2 Schemes || CD Order Form
Silver Dragon Main Page || Styles Schemes Main page || News || Cursors
---
Webpage design © 1998, Sven Berg Ryen.
Content © 1997-2005, Janet Snider Parris.
All rights reserved.