Fourth of July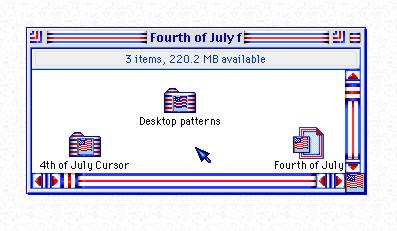 This is another holiday scheme, with American flags, stripes, and fireworks,.
Fourth of July has custom trash and flag default folder, with an American flag cursor. Enhanced for K2.
Last updated: November 21, 1998 -- Available on Holiday Schemes CD
Holiday Schemes || K2 Schemes || CD Order Form
Silver Dragon Main Page || Styles Schemes Main page || News || Cursors
---
Webpage design © 1998, Sven Berg Ryen.
Content © 1997-2005, Janet Snider Parris.
All rights reserved.