Jewels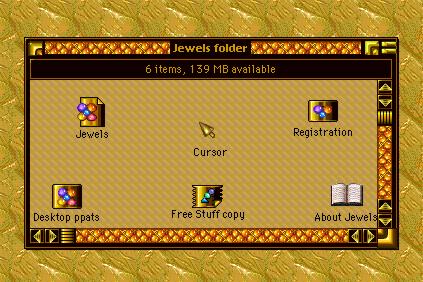 Jewels features different varieties of gemstones, including citrine or amber (active scrollbars and document window), Ceylon sapphire (disabled scrollbars, utility window, and dialog window), multigems - amethyst, citrine, blue topaz, pink tourmaline, tzavorite (green garnet), and chrysoberyl - (empty scrollbars and alert window), and peridot and amethyst (pressed scrollbars); enhanced for K2.
Last updated: July 4, 1999 -- Available on Styles Schemes Volume 1 CD
Holiday Schemes || K2 Schemes || CD Order Form
Silver Dragon Main Page || Styles Schemes Main page || News || Cursors
---
Webpage design © 1998, Sven Berg Ryen.
Content © 1997-2005, Janet Snider Parris.
All rights reserved.