Best Viewed in Netscape
View with frames|| Cookies Main Page || Band Sounds || Band Pictures || Contact Me
---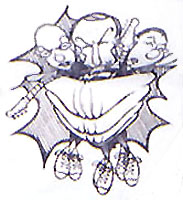 Last updated: October, 2004
Rock Drumset and Marching Snare: Cookies
---
MY BIO:- - I began playing the drumset about 8 years ago, and have played in several rock bands including Glow In The Dark Space Trivia and Franklin Kane's Fist. I played the snare in Western Alamance Winter Guard, a winter drumline. After Glow In The Dark Space Trivia and just before I began playing in Franklin Kane's Fist, I played snare in The Presidents DCI Drum Corps, which later turned into a DCA Corps after I left. - -
---
- SOUNDS AND IMAGES -
---
Band Pics
---
Band Sounds
---

Cookies uses Innovative Percussion marching sticks, and a Dynasty marching snare for marching. He plays on a Yamaha Rock Tour Custom Drumset with Zildjian and Sabian cymbals and uses Vic Firth drumsticks for his drumset.
You may send comments or otherwise contact Cookies by email at:jparris6@triad.rr.com
---
This page has been visited
times.

Webpage content © 2004, J.S. Parris.
All rights reserved.