Children's Christmas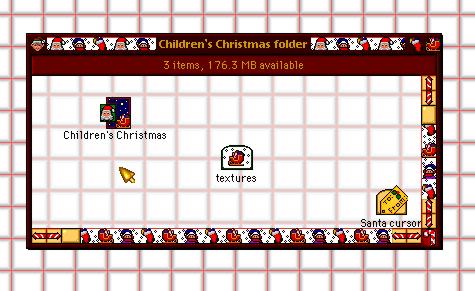 Children's Christmas has Children's Christmas folders, Christmas present trash, window background, lots of extra Christmas patterns for use in the Desktop Pictures/patterns control Panel, and Jingle Bells windowshade sound. I have also made a pattern you can install in your Desktop Control Panel of the golden tile desktop pattern I had previously used, so you can still use it if you prefer. Additionally, I have added a Santa cursor to the folder. Enhanced for K2.
Last updated: April 28, 1999 -- Available on Styles Holiday Schemes CD
Holiday Schemes || K2 Schemes || CD Order Form
Silver Dragon Main Page || Styles Schemes Main page || News || Cursors
---
Webpage design © 1998, Sven Berg Ryen.
Content © 1997-2005, Janet Snider Parris.
All rights reserved.