Byzantium Blue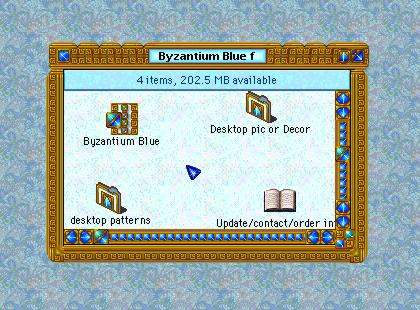 - Active Document Window from Byzantium Blue -
With the look of star sapphires (even cursors) and turquoise, this scheme includes custom folders, trash, cursor, desktop pattern, patterned menu and menubar, finder and finder header, window pattern, and windowshade sound, all written *into* the scheme. Bill Paris desktop. It is free to all of my registered users; shareware, if you are not already registered; has been updated.
Last updated: May 5, 2000 -- Downloadable and available on Styles K2 Schemes CD
Holiday Schemes || K2 Schemes || CD Order Form
Silver Dragon Main Page || Styles Schemes Main page || News || Cursors
---
Webpage design © 1998, Sven Berg Ryen.
Content © 1997-2005, Janet Snider Parris.
All rights reserved.